I received a mysterious envelope with a return address in Germany. I wasn't expecting it so quickly: My own myPanini World Cup sticker for my album. It's finally (almost) complete: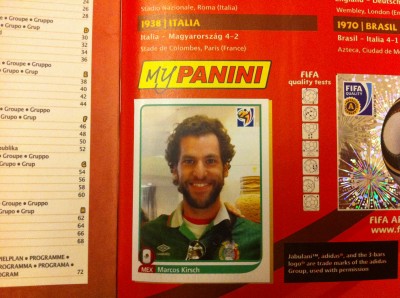 Compared to the 2006 version, I look a lot happier and hairier. Most readers will quickly point out that I'm wearing an outdated 1994 Umbro jersey instead of the current one. You are right – but I guarantee that this photo was taken in 2010 next to none other than former national team legend Luis Roberto Alves "Zague"! (see original).
There's already quite a long waiting list, but I do have a few extras. So if you want your limited edition Marcos Kirsch sticker, just ask nicely in a comment.
And if you know what happened to the mystery sticker shipment from Panama (you know who you are), please let me know.