Ok, last SXSW 2010 post.
Saturday was the final day of South By Southwest. Destination: Beauty Bar – or rather, a seemingly improvised venue called "Beauty Bar/Palm door" three blocks south of the real Beauty Bar. The place had three nasty problems:
A serious drainage issue that made the whole place stink, even though the bathrooms were surprisingly neat.
The bar had no way to charge credit cards, which is bad for today's cash-less American society (and for my friends with cash who were nice enough to buy me beer).
A horribly annoying wooden column right in front of the stage, as you can see in the photos I took.
In spite of this, it turned out to be an excellent night with one of the best shows I've seen in a SXSW.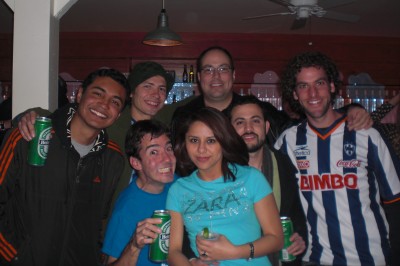 Photos and videos of the shows if you read more…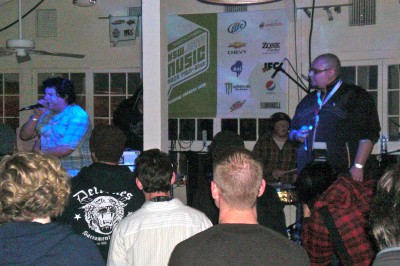 The perfect reminder that Rap/Hip Hop is not my thing.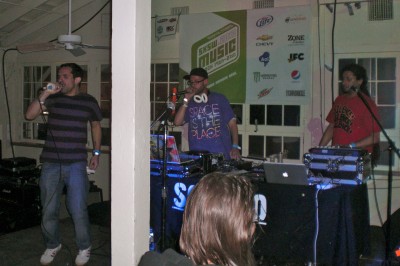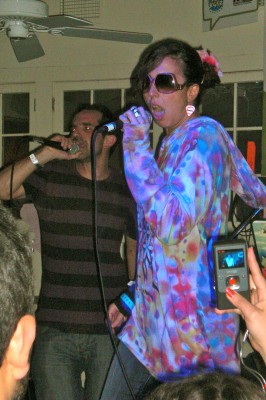 I saw them before. Solid Israeli DJ act. Video included:
Another Israeli band. Strange premise: Surf music with a tuba. Some people compared them to Gogol Bordello. Interesting to say the least. They got extra points for the lead singer's mustache.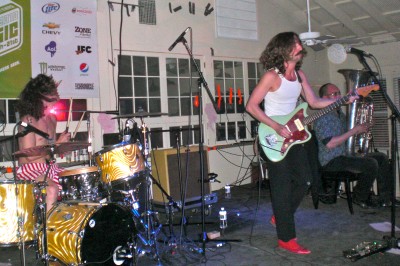 I got to see these great band last year. Sadly on Saturday they only got to play for about 15 minutes. Bands were scheduled to play each for one hour, but that includes setting everything up. ChocQuibTown has a lot of equipment and not a lot of people helping to set up. They had trouble getting everything ready and by the time they played the hour was almost up!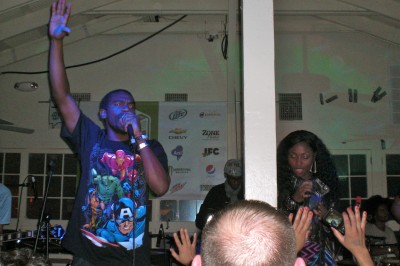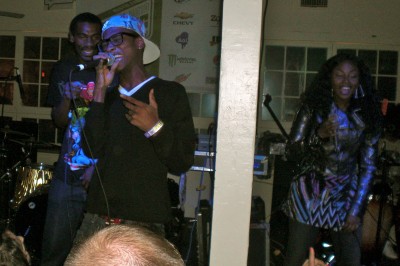 At least they got to play the previous night, and as Tostao (left in the photo) was telling us before the show, they were also very psyched about a video of their band that got featured on YouTube's main page on that day, bringing over 100,000 hits and counting! Now that's some good exposure.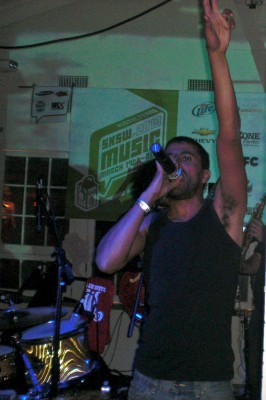 Along with Bajofondo, Israeli act Balkan Beat Box was in my "can't miss" list. I really like their CDs and was looking forward to it. The show was nothing like I expected though: it was much, much, much better!
I was expecting lots of loops and pre-recorded stuff. Since their music sounds very hard to play on stage live. I was wrong: They had two saxophones and a clarinet, two percussionists, an incredible bassist, guitar… you'll see in the video.
And the energy… The whole was jumping. It was great.
Even though the started super late at 1:45 AM (setup time, again) and bars are pretty strict about closing at 2:00 AM in Austin, they kept playing until almost 3:00 AM. Sure, they made us drop our drinks (see video), but who cares?
After they finished playing, they lights were turned on quickly and the employees of the bar started to kick people out, as it was very late. No one moved. The band came back on stage but their equipment was off. In an unexpected display of classic Israeli chutzpah, singer Tomer Yosef redirected the crowd: "Don't tell us, we want to play. Tell that guy", while pointing at whoever was in charge of the bar. Bars tend to be pretty strict about these things, but this time they relented. Awesome.