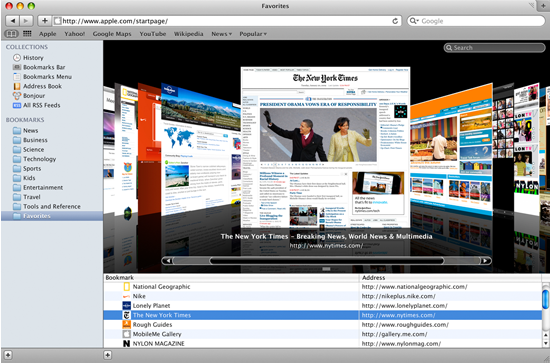 The good people at Apple released Safari 4 beta yesterday. For those not in the know, Safari is Apple's web browser. According to the traffic analysis for The MKX® (more on that sometime next month), a large amount of readers are still using Internet Explorer.
At home, I've been using Safari for years. Before that I used Camino. At work, I had been using Firefox, but switched to Google Chrome a few months ago and liked it very much. Now I'm giving the new Safari 4 a spin both at home and at work. Call me a browser slut if you'd like, I've been known to use iCab and the now free Omniweb in the past, and even IE for Mac back in the Mac OS 8 days.
I like it so far. For example, on Windows I can make the fonts look like they do on the Mac: much better – but perhaps a personal preference… from someone with better taste. I also like the new tabs (heavily borrowed from Chrome) and the fact that it will sync my bookmarks with my home computers and iPhone through my MobileMe account.
You can download it and test it here.