Have you read about the Impossible Burger?
I have, and I was terribly curious about it: a California company using high-tech to create a vegetarian burger that looks, feels, and tastes like the real thing. Sound familiar? Yes, because we covered in 2015 we talked about the Beast Burger. This is different. They somehow made plants produce tons of heme which is abundant in meat and allegedly is what gives the hamburger it's taste.
The only problem is that the list of places that carry it is very short. Recently, popular local burger joint Hopdoddy was added to that list.
When my grandmother and aunt came to Austin for an unrelated event, I took them to try it (they only eat kosher meat, and this is meatless).
But they were sold out.
Not one to be easily discouraged, I tried again by myself. This time they had it. This is what it looks like: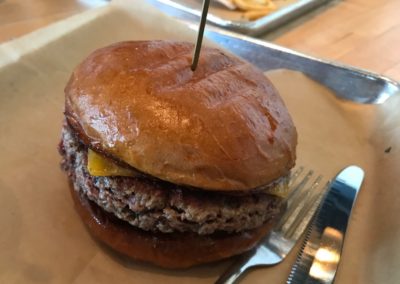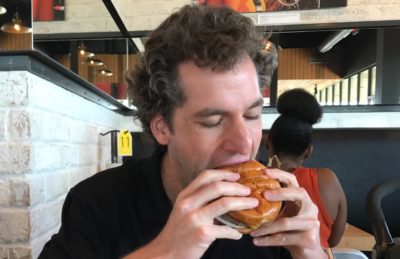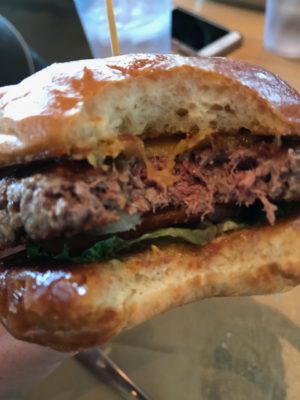 Visually, it's striking. It looks like a real hamburger. They make it red and stringy like a real hamburger. According to them, the secret is adding plant-mad heme which is abundant in blood thus meat – except this heme is somehow produced from plants.
Taste-wise: it's pretty good. You can tell it's not a real hamburger, but when mixed together with the bun / cheese / lettuce / tomato / etc. then it doesn't really matter that much.
Verdict:
Does it look like the real thing?
Yes.
Is it tastier than the real thing?
No, but it's close.
Is this healthier than the real thing?
Maybe.
Is this cheaper than the real thing?
The one I had was just as overpriced as every other hamburger sold there.
Is it better for the environment?
Definitely. Beef is terrible for the environment.
Will this make hippies who think "all natural automatically means healthy" happy?
No, they use genetic engineering to get plants to make lots of heme. But if you believe that genetic engineering = "bad" then get out of my blog and go read some horoscopes.