Hopefully by now you saw the trailer… Here's the full story (and videos).
Thanks to a nice discount obtained through work, I signed up for a trapeze class at Trapeze Austin. These kinds of schools are quite rare, and apparently this is the only in Texas and around.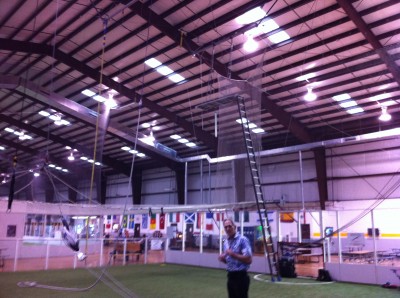 Their rig is located inside Soccer Zone in south Austin. On my class there were a total of ten people, about half of them with some experience, and the other half newbies.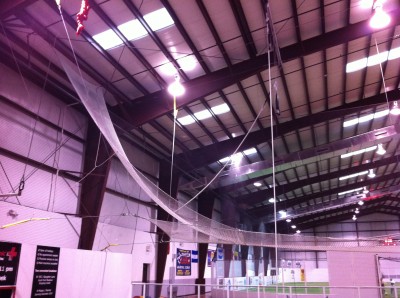 Us newbies went through a small introduction in a low trapeze: how to hang, how to hang from your feet, etc. The we went ahead and took turns in the actual trapeze! I had both a harness, so the whole thing feels (and is) extremely safe.
Read more to see the full videos…
The instructors tell you when to do things, and this is key- timing is extremely important, especially if you are supposed to be caught by someone in a different trapeze.
The "routine" I had to do went something like this:
Jump off platform.
When you reach the other side, put your feet on the bar.
When you reach the initial side, let go of the bar, hang from knees, extend hands for catch.
Since there was no catcher at first, you "undo" all of this and then jump off to the net with a fancy backflip.
Once there is a catcher, the catcher grabs you by your hands, you swing, then you jump off.
That's it! Not too complicated once you get it. But time does move fast on the trapeze.
I posted four of the five tries on YouTube (and below). No catcher on the first two, and successful catches on the second two. If you must watch only two videos, I recommend the first and fourth.