I went to San Antonio a few weeks ago to see Billy Joel and Elton John, missing the last day of SXSW. Great 3.5+ hour long concert: the sound, the performance, the stage… all except for how far away we were sitting.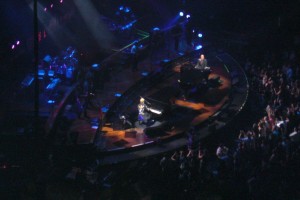 The t-shirts were great too. I bought seven, one for each day of the week. They're expensive because they were knit by the artists' mothers, Mrs. Joel and Mrs. John themselves. And at $40 a pop, they must be good.
The big takeaway is: for my next mega-concert, I'm going to be close to the stage.