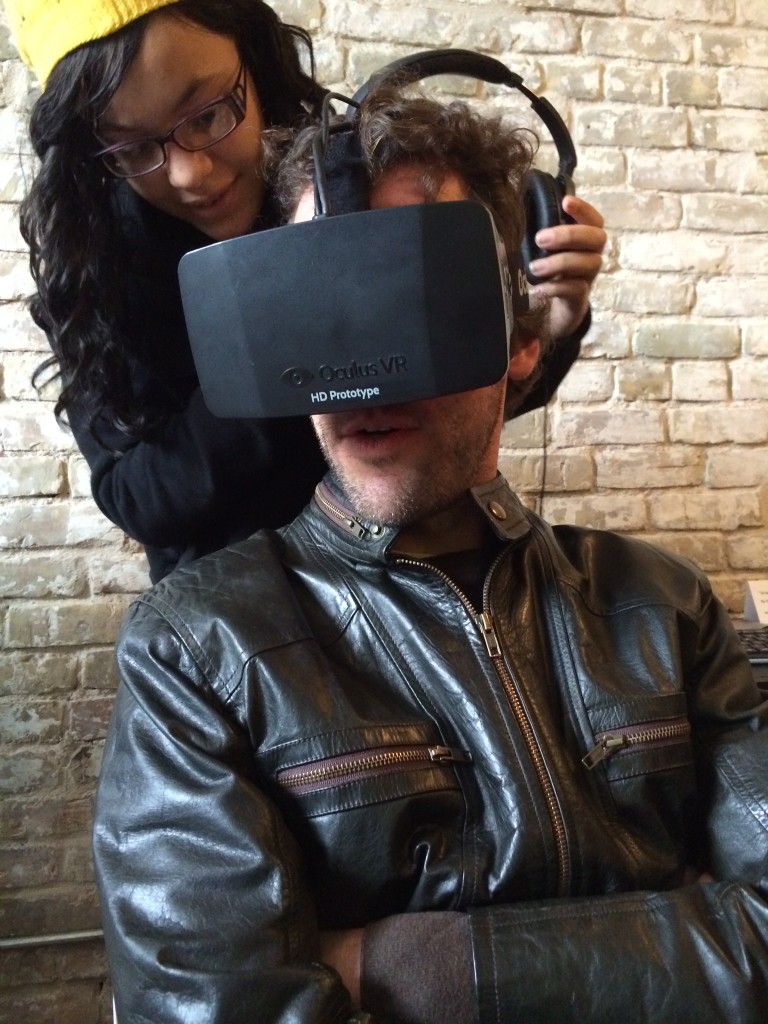 This SXSW I finally got to check out a toy that's been on the top of my "toys I want to try" list: the Oculus Rift. Remember those terrible and unplayable virtual reality games in the nineties?  They sucked, right? Not this one…
The state of virtual reality today is equivalent to the state of tablet computers a few years ago. Many people thought it was a great idea and kept building them failed – but failed (Microsoft Tablet PC). Eventually everyone gave up on it: "nobody wants tablets". Years later, technology catches up and someone (Apple) tries again and finally gets it right: iPad. Turns out it was a good idea from the beginning, but no got it right.
Do the people at OculusVR able to do it right?
Yes, or at least they're very close. In summary: goggles with cellphone screen in front of each eye and gyroscopes/accelerometers,  all connected to a powerful computer. The computer creates left-eye and right-eye images to match what you'd be seeing. OculusVR already shipped hardware development kits and a lot of people are creating games and demos.
The demo I tried, unlike most which show computer generated 3D surroundings, was of a pre-recorded performance of a musician. It puts you on a chair inside his studio. He walks in, sits down at the piano, and starts playing. You just sit back and look around… at the piano, at the apartment, at the dog next to you.
It was weird: when you put on the headset, you are suddenly in a room larger than the one I was actually in. I tested a newer 1080p prototype of the Oculus Rift. The screen door effect was notable and the pixels still obvious. I suspect that even at 4K you'd be able to see the pixels, although they'd be a hell of lot less distracting. If I moved my head quickly, the image would ghost and fall slightly behind.
In spite of all this, it was amazing. This is truly revolutionary and the first time virtual reality is done right. This is definitely the future: video gaming, video conferencing, streaming live performances, etc. Just give Moore's Law a few more years…
(apologies for the vertical video, the videographer was promptly fired)