This is a photo I just took of what is apparently the smoke from a plane crash on MoPac and 183. I took it from the eight floor of my building at work: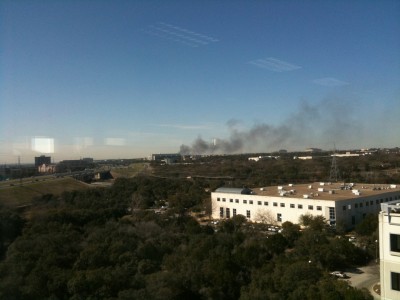 There's not a lot of news out there but KVUE has a report (with video): Apparently a 1-engine Cessna crashed onto the Echelon building.
According to my calculations, in the embedded map you can see how far from me it happened:
[UPDATE]: Two people still unnacounted for. Let's hope they're ok!
[UPDATE 1:13 PM]: There was a big column of smoke I could see from my building this morning (before the crash). It was a house on fire. It's possible that this is the house of the pilot that smashed a plane this morning, Joseph Andrew Stack. His suicide letter is online on his website.