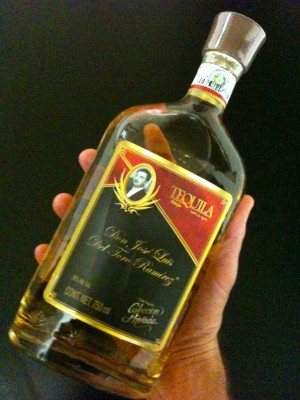 Yesterday I received a new and mysterious bottle of Tequila that my dad sent me. My dad somehow manages to find me some wonderful and rare drink every now and then. The brand: "Don José Luis Del Toro Ramírez". I had never heard about it and I couldn't find anything about it on Google. So here's the story:
The former owners of Tequila Don Julio, the famous Mexican Tequila, sold the company in 1999 to Canadian giant Seagram, which was itself later bought by Diageo.
Well, Don Julio (the person, not the company) and his family decided to open  a new small Tequila company together with a few investors. My dad was recently at a trade show in Guadalajara, which is very close to Tequila (the town, not the liquor). At the trade show he met up with the owners of a company he's been doing some work with named Del Toro Furniture. The owners of this factory happen to be one of said investors in the newly formed Tequila company. They also happen to have made a special batch of super fine Tequila for their own private collection and named it after their father: Don José Luis Del Toro Ramírez. That's the bottle I got.
The Tequila is triple distilled, 100% pure blue agave, aged for three years – which is extremely rare for Tequila. I hear it's supposed to be extremely good. I'll know soon enough. Any takers? Huge thank you to the Del Toro family and my dad for sending the bottle over. I'm a sucker for good Tequila.
If you know anything about Tequila Don José Luis Del Toro Ramírez or have any corrections, leave a comment.