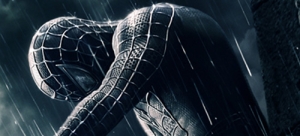 As my faithful readers know, I've been something of a Spider-Man fan since I was two or three. I used to watch the cartoons (from the 60's and from the 90's) and I read the comic books for many years. I saw the previous two movies at midnight when they opened and did the same for the third one. (I must clarify that none of this makes me a nerd, and if you think it does… well you're racist or something). So here's my take, in an easy-to-write Good/Bad/Ugly format.
Good
Venom looks incredible, just like I pictured him when reading the comic books. Too cool. Topher Grace did a great job as Eddie Brock (which I didn't expect).
The Sandman is awesome too. Thomas Haden Church looked great.
Gwen Stacy is hot. Hotter than Mary Jane.
Lots of action, tons of things going on.
Bad
The whole Symbiont thing is way under explained.
A meteor crash? In Central Park? Next to Peter Parker? And he doesn't notice? Give me a f****** break!
No Spider-Sense in the whole movie! At all! They always catch Spider-Man by surprise! Sure, everybody knows Venom does not trigger the Spider-Sense, but the Sandman and the Goblin should…
So now Sandman killed Uncle Ben? Who's going to be the killer next? J. J. Jameson?
Most characters are under-developed.
Venom is not schizophrenic. He refers to himself as "I", not as "we". That's just wrong.
Cool and well done as the character is, I think the movie didn't really need the Sandman. He doesn't get enough time and whatever little time he gets he's just taking away from the others.
Ugly
Eddie Brock was played by a different actor in the first movie. No one seems to remember him.
Green-Goblin Jr. is lame.
Too many scenes that belong in a chick-flick.
Why does the evil Peter Parker like to dance so much? Couldn't he just do evil things instead?
Venom has no tongue. The big tongue with the green slime is one of the coolest thing about Venom.
Conclusion: Not as good as the previous two movies, but it's fun to watch. Go see it.