Yesterday, as I was walking aimlessly in the International Terminal at Aeropuerto Internacional Benito Juárez in Mexico City, I bumped into the Mexican National Team on their way to play against Ghana.
All the other players ran ran away at the sight of a drunken fan, but thankfully Mexico's (and Monterrey's) star midfielder Luis Ernesto Pérez was too busy buying a milkshake and couldn't escape. Here's the proof: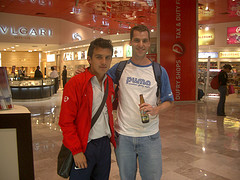 At least one of these two fine gentleman will go to
Germany
this summer.
By the way, did you know you could buy Indio beer for $29 pesos and then walk around with the bottle in the airport? Neither did I. What a pleasant surprise!