Well, it's finally happened… the years I invested in courting, becoming engaged to, and most recently marrying The MKX® head honcho have finally paid off, because I've been given the world's first ever guest spot! It was no easy feat, but let this be a lesson to you all – dreams really can come true, with the right combination of prayer, hard work and determination.
So what I want to share today, in what I hope is my first of many guest posts, is one of the adventures Marcos and I experienced on our recent trip to Asia. We were in Siem Reap, Cambodia on an intense, packed three-day itinerary planned by our wonderful tuk tuk driver, Barang. We had an awesome time exploring Angkor Wat and saw many incredible temples. Barang promised us a romantic, sunset boat ride to end our three-day experience, and we were looking forward to it – he had Marcos at "romantic"!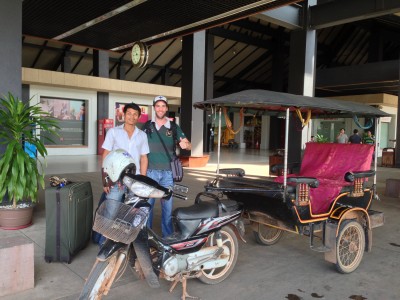 So finally, the day arrived. It was pouring rain and we had to drive through many unpaved dirt roads to get to our boat. If you've never ridden in a tuk tuk while it's pouring on unpaved muddy roads… then you really should get out more often! But you should also know that it gets a bit bumpy. And by that I mean I swear I could literally feel my brain bouncing around inside of my skull the entire ride [editor's note: too much empty space?], which isn't as pleasant as it may sound. Upon finally arriving at our destination, bodies somehow still intact, we were told that the cost per person was $20. This may not seem like a lot by American standards, but to put it in perspective, a two-person dinner at a nice restaurant in downtown Siem Reap with milkshakes and beers, including taxes and tip, cost us $9. So we were skeptical, to put it mildly, but at that point we were already way too far into the journey to turn around (plus I couldn't put my poor head through the drive again). We figured that for $20, we would be going on an elite cruise with dinner and drinks included, which sounded fun, so we paid and began our adventure.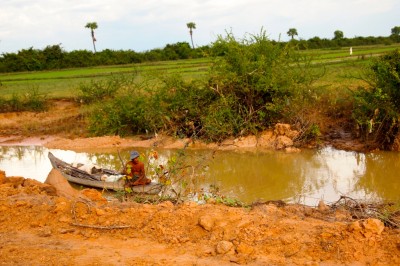 After walking for 20 minutes in the mud alongside what could only be described as a dirty puddle, we arrived at the dock – inside the dirty puddle. The boats were old, beat-up glorified canoes, and the motors looked, according to Marcos, "post-apocalyptic".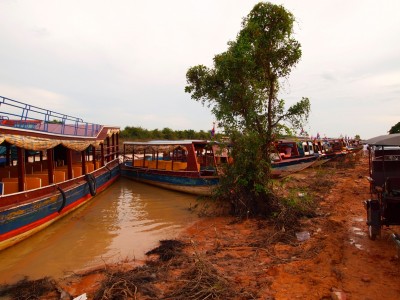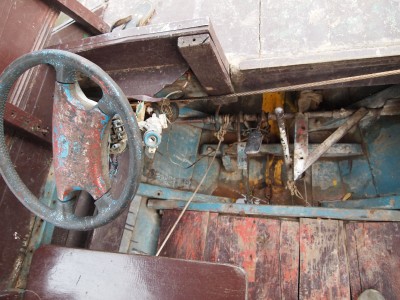 An Israeli, a Mexican, two little Cambodian girls and a chicken walk onto a boat…
The beginning of a joke? I wish. A teenaged boy came over to us and motioned for us to get into one of the boats – turned out that he was our captain. We got in reluctantly, thinking that at least we were getting our own boat, when suddenly two small girls holding a live chicken upside down by its legs hop aboard next to us.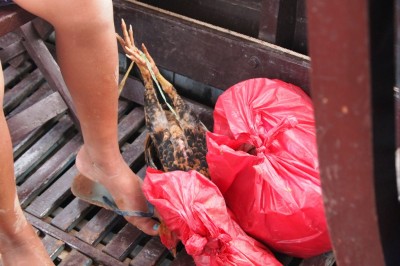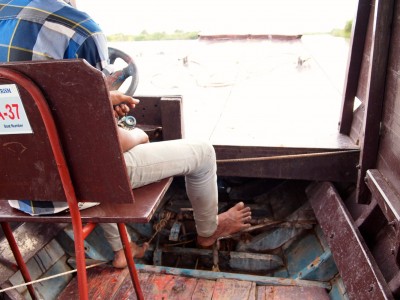 So our little happy family set sail into the dirty puddle for our romantic sunset boat ride. Needless to say, there was no dinner or drinks involved [editor's note: after one hour of cruising, the chicken started to look appetizing]. We did get to see a floating village on our way to the open waters, which we had mixed feelings about (while it was interesting to witness the cultural differences, it was really uncomfortable to have these villagers be "on display" to tourists as though they were zoo animals or something).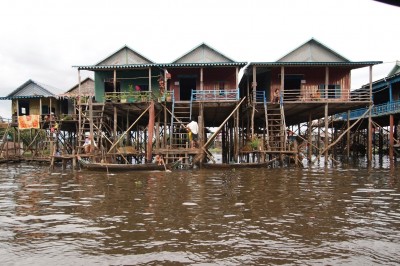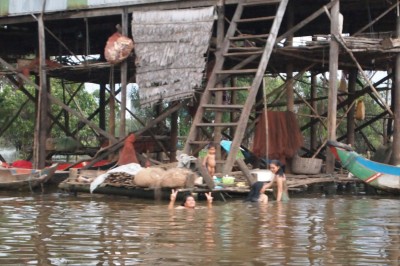 Upon arriving back at the dock after the sun had set, it began raining again. We trekked through the mud in search of Barang, always a challenge at the end of the day because there were hundreds of identical tuk tuks all over the place. We finally found him at a random makeshift tent bar… he had run into an old friend and they apparently peer-pressured him to drink while he was waiting for us. He assured us that he was not that drunk (we were not reassured). So now it's dark, rainy, and muddy, we're in some remote village with unpaved roads really far from our hotel, and our driver is wasted. Awesome!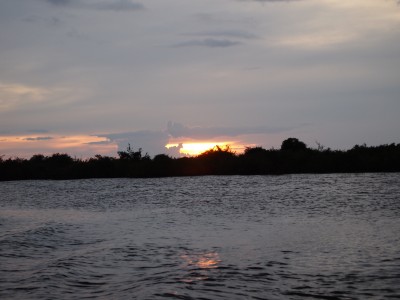 All in all, it was a really entertaining, interesting, not even remotely romantic adventure… and in case you were wondering, we made it back alive! Sorry to spoil the ending if you hadn't yet heard.
That's all I've got for you. Hope you enjoyed my first-ever post, and as I'll be anxiously awaiting to hear about my fate as a regular contributor from the higher-ups, you can help me by leaving your thoughts in the comments below. While formidable, intimidating, and devastatingly handsome, the CEO of The MKX® is also very fair, so he'll be looking to you, the readers, to determine the success of this risky experimental endeavor.