Ladies and Gentlemen, especially Mexican Ladies and Gentlemen who reside in the US and are thus deprived from certain alcoholic beverages sold exclusively in your home country, please make sure you are sitting down before reading this. Are you sitting? Good. Read on: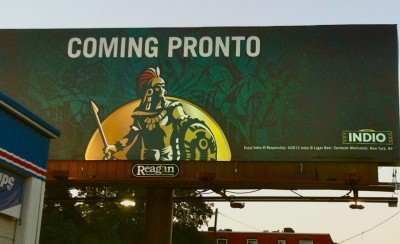 The MKX® correspondent Mr. Del Castillo sent the above photograph, taken today on Lamar Boulevard in Austin TX. Yes. As in Austin Texas in the United States of America.
I spent my first 6 months in the US calling liquor stores and asking if they stock Indio beer (also referred to as sweet nectar of gods). Over the next decade I drove cases of it across the border. A flicker of hope emerged last November when HEB imported Nochebuena beer. Then Indio beer spruced up its image (corrected), for what it seems like preparation for bigger things.
When? I don't know. I could not find any further details online (any tips are appreciated). But it seems like our friends at Cuauhtémoc-Moctezuma finally got over their fear of offending Native Americans north of the Bravo (that's Rio Grande for some) and will treat us to some cold Indio. Yes. Indio beer in the United States.