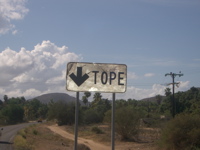 Congratulations and best wishes to Jer�nimo and Daniela, who got married last Saturday in La Paz, Baja California Sur, M�xico.

On Wednesday, Daniel, Daniel, Alejandro, Andr�s, Gustavo, and I flew to Los Cabos with the groom himself.
Jer�nimo had to leave the next day, but we stayed in Los Cabos – where the dessert meets the sea and everywhere you look it's full of gringos (What the hell is going on?! Are gringos falling from the sky?!?!).
We went to (try to) surf, met a bunch of nice people (Rebeca, Jeniffer, Carmen), ate at Tacos Rossy some delicious fish tacos, swallowed liters and liters of sea water (at least Jaramillo did), visited the Hotel California in Todosantos (the one from the song, really), drank beer at the Bikini Bar, had some Ballenas de P�cifico at "El Squid Roe", traveled to La Paz for the wedding and had a lot of fun in general.
If you don't believe me, photographic proof will be posted soon… stay tuned.
UPDATE September 1 2004: I have posted two photo albums with pictures from the trip. Check them out! (1, 2)